Controversial book up for debate at Richland School Board meeting
Posted:
Updated: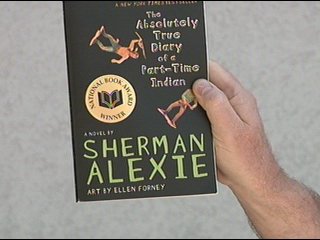 RICHLAND, Wash. -- The Richland school board is expecting a big crowd tonight, because of a controversial book that's being kept out of the classroom.
The book is called "The Absolutely True Diary Of A Part-Time Indian" by Northwest author Sherman Alexie.
It is based on the author's life on a Spokane Indian Reservation. The five members of the Richland School Board voted three to two to not include it in curriculum. The book was never a required book, but was on a list of approved books for teachers to chose. However, they made the decision without all of them reading the book, based on the mixed recommendations of the Instructional Materials Committee. That committee of 15 members is made of parents, teachers and administrators. It's their job to decide what is included in the curriculum and they had mixed feelings about the book.

Published author Steven Wallenfels says this is about standing up for all the authors. He says the book is a perfect for young people dealing with bullying and questioning life.
"This one was specifically targeted for the young adult audience. and right now the school board is questioning whether or not its appropriate for a high school age audience. I think there's a disconnect between the author and the people who are evaluating its appropriateness," says Wallenfels.

Richland Schools Superintendent Dr. Jim Busey says he expects a lot of people to show up to Monday night's meeting.

"There are some language issues, there are some issues with certain scenes that could be of sexual nature, that could be scenes of violence and trouble issues," says Busey.
The meeting starts at 6:30, and the school board is expected to hear out the audience and possibly take a re vote.