From Football to TV and Back: The Cleveland Pratt Story
Posted:
Updated: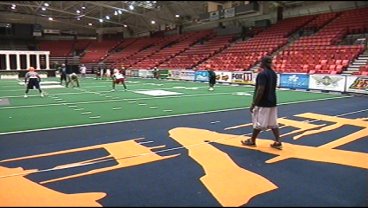 Kennewick, WA---- Meet Cleveland Pratt, the Fever's special teams and defensive backs coach. Before coaching in Tri-Cities, Pratt spent 17 years in television news. Seven at a Miami CBS affiliate, as a satellite truck engineer and post production editor.
Pratt said he enjoyed the "fast pace. Breaking news. Getting involved in the community. I felt that the TV news industry you know fitted me."
In 2004, while still working in Miami, Pratt wanted a changed. He wanted to coach football.

Pratt said, "I got burnt out to be honest with you, and I wanted to get back to my passion which was football."
Pratt played college and pro football. Former arena football teammate, and once Fever coach Tony Wells, gave him his first chance to coach here in Tri-Cities in 2007.
Pratt said in a phone conversation with Wells that, "he asked me if I was ready and I was like ready for what? He was like are you ready to coach? And I'm like right there and... "
Four years later, Pratt's reached the ultimate, coaching professional football and at the high school level as an assistant at Hanford High. His passion for mentoring young football players spilled over this pass week during the Fever's IFL championship press conference.
A tearful Pratt said, "There's a lot of hard work that goes into managing young men and keeping them on the right path. I'm very grateful to be standing up here and sharing myself with you about this opportunity. Thank you."
Pratt will help guide the Fever against Sioux Falls this Saturday for a league championship.