Rising Through Tough Circumstances: The Houston Lillard Story
Posted:
Updated: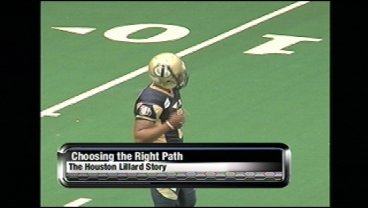 Kennewick, WA---
Tri-Cities Fever Quarterback, Houston Lillard, grew up in Oakland, California, surrounded by drugs, and violence.
Lillard said, "Growing up a lot of my friends as we got older chose to take different paths, and do different things in life. Whether to sell drugs, rob people, or even kill people."
A strong family base kept Lillard off the streets, and on the right track. His grandparents playing a major role in his life, guiding him towards education and football, and away from dealing drugs.
Lillard said, "I kind of was scared you know. Get a whooping. You know... Didn't play that. Grand daddy would come around the corner with the belt in minute. So they also let us know we didn't have to do it. We didn't have to you know go steal nothing, because they gave us what we needed."
Eventually Lillard made it out of Oakland to play college ball. During his time in school playing football, a few of his friends were murdered, and he lost his girlfriend due to breast cancer.
Lillard said, "That was the toughest part for me losing childhood friends when I was going away. Coming back and not being able to see them again. It just let me know that you know people that's close to us can be gone. So just to appreciate what you have and who in your life, and just appreciate the people that's helping you at the moment... Cause you never know when they'll be gone."
Through these experiences Lillard became stronger, understanding the importance of making good decisions, especially with a two-year-old son at home.
Lillard said, "Me having a son has changed my thoughts a lot, and made me second guess some things... because I want to be there and see him grow up."
This Saturday the 24-year-old will guide the Fever in the IFL championship game at Sioux Falls. A moment he never dreamed of.
Lillard said, "Just to win a championship would be a great honor you know. And to prove... you know no matter what's going on you still can make it... and still get to the top."