Skin cancer screening
Posted:
Updated: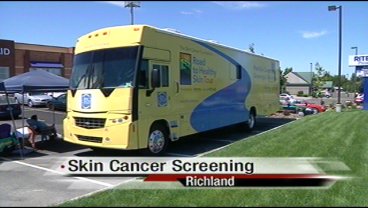 KENNEWICK, Wash.--One of the world's largest skin cancer tours has come to the Tri-Cities. The Road to Healthy Skin Tour bus served dozens of people today with checks for skin cancer.
Dermatologists offered their services for free. A physician was on hand providing information about cancer and ways to prevent it. People from all over Washington lined up for the cancer awareness campaign with questions answered by professionals.
Board Certified Dermatologist Sidney Smith says "it's very important to be aware of skin cancer because skin cancer is the most common cancer that exists. When you're talking about cancers, people pay a lot of attention to breast cancer, colon cancer, and lung cancer. Those are all very important but skin cancer is by far the most common cancer."
Doctors say it is important to pay attention to the warning signs of cancer and remember to wear hats, sunglasses and sun screen outside when it's sunny.
One in five Americans develop skin cancer over the course of their life, and at least one person dies every hour from melanoma.
Doug Davis of Finley says "even when somebody gets knocked down in their fifties and sixties, that's too young. This right here could save lives."