Bellingham Sweeps Walla Walla with 2-1 Win
Posted:
Updated: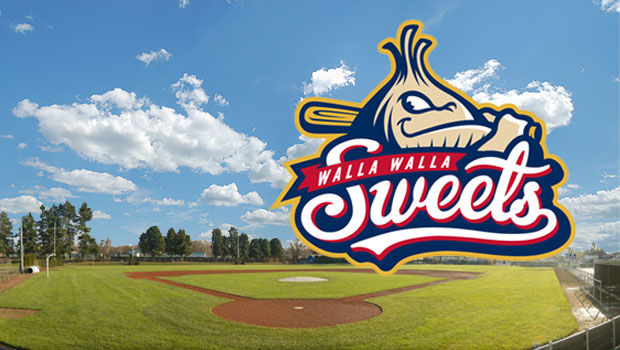 WALLA WALLA, Wash. -- Tim Culligan was perfect through the first 5.1 innings and allowed just one run over eight innings but was out dueled by Adrian Sampson as the Bellingham Bells swept the Sweets with a 2-1 victory on Friday night at Borleske Stadium.

In front of 2,159 on Tough Enough to Wear Pink night, Culligan delivered the best pitching performance of the year for the Sweets. He struck out two in the first, another in the third and was helped by several brilliant defensive plays as he retired the first 16 Bells he faced. It was former Sweet Marshall Yanzick that finally touched him for a single in the sixth inning as he got it just over the leap of Alex Stanford at short.

On the way, Zach Wentz provided a brilliant play at third in the fifth as he fell to his left to knock down a line drive by Ben Grubb before throwing to first to retire him. Even after Culligan lost his perfecto his defense was there to help him out. Yanzick went to second on a sac bunt and tried to score on a single to left by Eric Lane but Brenton Allen came up throwing and nailed him at the plate with a gorgeous throw. It was the second straight night that Allen has thrown out a runner at the plate.

The Bells eventually broke through in the seventh. Kai Hatch singled to start the inning, Derek Atkinson followed with a broken bat single to center and both advanced on a wild pitch. The Sweets brought the infield in and Grubb smacked a ground ball to the left side that Stanford dove to knock down but his throw was low to first and got away, allowing Hatch to score from third. Bellingham then tried another first and third offensive play as Grubb took off for second and got in a rundown on purpose. Kevin Hawk threw down to Denver Chavez who calmly ran the runner back to first before catching Atkinson in between third and home for the first out. Culligan got the next two batters to end the inning but Sampson ran with it.

Entering the game with a league-low 0.81 ERA, Sampson allowed a leadoff single to Andrew Mendenhall in the first and made an error on Stanford's bunt putting runners on first and second with no outs. He zoned in after that, getting a fly out and a 6-4-3 double play to end the first and eventually set down 17 straight batters before hitting Stanford to lead off the seventh. He took a shutout into the ninth inning but was unable to get it as the Sweets rallied.

Trailing 2-0 after the Bells tacked on an insurance run in the top of the ninth, Walla Walla got a leadoff double from Mendenhall but a line out and strikeout had him still there two batters later. Chance Kopacz, however, came through with single to right to score Mendenhall and cut the lead to 2-1. Sampson battled back and got a strikeout, his eighth of the night, to complete the victory.

Up until the ninth the Sweets had just two hits and only four over the previous 17 innings. Mendenhall had two of the four hits for the Sweets who have lost eight of their last nine home games. Lane was the only Bells player to have two hits and Hatch scored both Bellingham runs.

Walla Walla will continue their eight-game homestand on Saturday night when they start a three-game series with the Kitsap BlueJackets with a 7:05 p.m. first pitch. The Sweets swept the BlueJackets last weekend in Bremerton. Ryan Richardson will get the ball in game one.