Latino Civic Alliance holds Town Hall meeting
Posted:
Updated: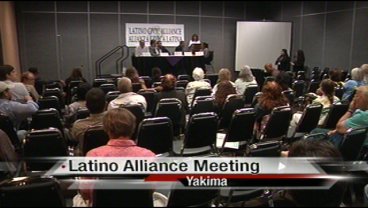 YAKIMA, Wash. -- The Latino Civic Alliance in Yakima is trying to engage the community in a new way. They held a town hall-style meeting at the Yakima Convention Center on Saturday. A large goal was to bring communication between the Latino community and public officials.
Speakers went over issues from immigration, to education, to gang violence. Some know far too well how gang violence can affect a family. Graciela Acosta's son, Jose Luis Acosta was shot by a gang member in 1999. Jose died at the hospital days later after being on life support. "Only a parent that has lost a child can understand that pain, the great pain, that it is to lose a child," Acosta said through a translator.
"I think it's a matter of the community, you know, insisting that something happen--and not just in Yakima, because although this may be the worst example in the state of Washington by far, it is not just about Yakima. We have to engage other people," said state Representative Luis Moscoso (D).
Law enforcement also spoke. They stressed good education and strong families. Educators say low profile teaching positions need to be more attractive to veteran teachers. They can make a lasting difference in the lives of young people who struggle to find the right focus. Those who went to the meeting had a lot of questions and suggestions, which is the kind of involvement the Alliance thinks will make the Latino community progress.