Richardson's CG lifts Sweets past Kitsap
Posted:
Updated: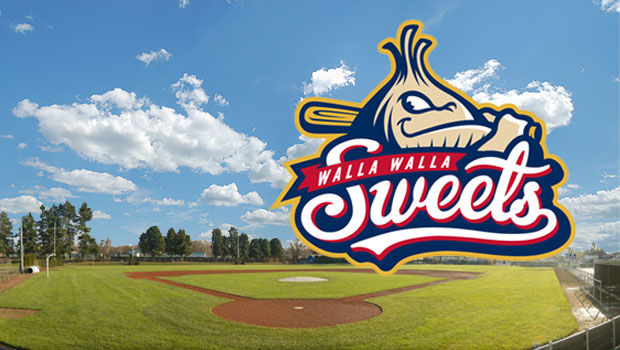 Walla Walla-- Ryan Richardson was determined to pick up a win. Shutout in his previous two starts, Richardson made three runs stand up, throwing a complete game to lead the Sweets to a 3-1 victory over the Kitsap BlueJackets on Saturday at Borleske Stadium.

A night after Tim Culligan was perfect through 5.1 innings, Richardson lost a no-hitter in the fifth, faced the minimum through five and allowed just five hits over the course of his outing. With a devastating changeup and a spot on fastball, the right-hander worked his way through the Kitsap lineup effortlessly. He got three of the first six batters to ground out, struck out a batter in each of the first four innings and benefited from two double play balls turned by his infield.

Richardson hit the first batter of the third but immediately erased him by inducing a 6-4-3 twin-killing and then erased the fifth inning single via a 5-4-3 inning-ending double play.

Over that span, Richardson's dominance was making a second inning run stand up for Walla Walla. After getting back-to-back hits to start the first and not scoring, Kevin Williams and Scott Gottschling started the second with consecutive singles; Gottschling's sending Williams to third. One batter later, Denver Chavez lifted a first pitch into center field, scoring Williams and giving the Sweets the 1-0 lead.

Kitsap starter Richie Mascheri was lights out after that and allowed his team to make their rally in the sixth. Austin O'Such singled with one out, moved to second as a pitch out went to the backstop and then scored on Evan Potter's single to left. Potter then left early from second and was picked off and Richardson ended the inning with a ground out to second.

Stymied and looking for a clutch hit or a break, Walla Walla got it in the seventh. Chavez worked a one-out walk, Mendenhall slapped a single through the left side and Zach Wentz worked a two-out walk to load the bases. With two strikes on him, Chance Kopacz hit a ground ball to short that bounced off the heel of Potter's glove and into center, scoring two runs and giving the Sweets a 3-1 lead.

That was more than enough for Richardson. Having not won since opening night, Richardson got two quick outs to start the eighth before allowing a single. Wentz, holding the runner on, came off the bag to make a diving catch to end the inning and Richardson did the rest in the ninth. Williams made a nice play deep at short for the first out and then Richardson struck out the final two batters of the game, snapping the Sweets' four-game losing streak.

Alex Stanford picked up three hits on the night to lead the Sweets offense and Mendenhall had his second straight night with two hits. O'Such was the only BlueJacket with two hits.