Dust Devils Rally for 3-1 Win
Posted:
Updated: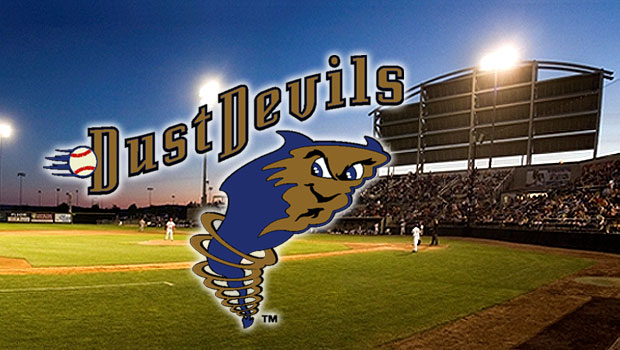 Pasco, WA---
Tri-City Dust Devils outfielder Jared Simon hit the game deciding two-run single with two outs in the eighth inning to give the Dust Devils a 3-1 win over the Eugene Emeralds Saturday night, in front of 2,751 at Gesa Stadium. The victory gives Tri-City the series win, making them the first team all season to win a series over Eugene.
Tri-City (15-14) starting pitcher Tyler Gagnon pitched well but did not earn a decision, going 6 2/3 shutout innings and allowing just one hit while striking out three. Reliever Nelson Gonzalez (4-0) earned his team-high fourth win of the season, working two shutout innings in which he struck out three and allowed one hit.
Eugene (22-7) starting pitcher Colin Rea also did not earn a decision, going just three innings and not allowing a run. Lefty reliever Jeremy Gigliotti (4-1) was tagged with his first loss of the season, working just 1/3 of an inning and allowing two runs.
Tri-City shotstop Taylor Featherston drove in the first run for the Dust Devils, earning his fourth run batted in this season. Simon was 1-for-3 on the night while infielder Tim Smalling went 0-for-3, ending his hitting streak at eight games.
The series finale between the Dust Devils and Emeralds is Sunday night at Gesa Stadium, which is ALS Night at the ballpark. Tri-City right-hander Ben Alsup will get the start with righty James Needy opposing him for Eugene, first pitch is at 7:15 p.m.