Inventory process underway on three rivers carousel
Posted:
Updated: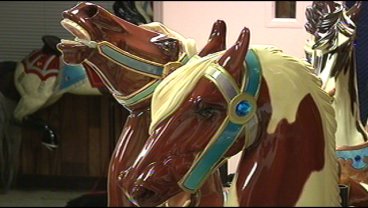 KENNEWICK, Wash. -- For the people counting pieces of a 100 year carousel, their work doesn't look exciting and it's not supposed to be. But, their work is part of a city trying to save a nearly one million dollar investment.
On the other hand, an organization is hoping this work buys them time to save a dream. "The hope will be that we will find a way to get it accomplished. We're not giving up on that hope. Maybe, it's a dream, but we're still going to try," explains Jeff Kossow of the Three River Carousel Foundation.
The foundation has struggled for eight years to raise money to get a carousel built and operating in Kennewick. With the city investing over 800 thousand dollars in the structure, they want to know where every piece is.
"But now that the city has it, we want citizens to know that we have everything in one area," says Sue Beitlich of the city of Kennewick. City Manager Marie Mosley recognizes that the process has not been easy for both sides,"this has been a very frustrating process. I think our council also recognizes that the foundation has worked very hard to make this successful."
Mosley made those comments in may after a council meeting resulted in all the members but one supporting the sale of the carousel, but foundation leaders are hoping they change their minds.
"Other groups have taken 10 and 12 years to get their carousels completed, so it's not unrealistic to think that it's going to take a little while," explains Kossow.
The city says over a thousand pieces need to be counted. Volunteers and city workers are donating their time to the effort which started two weeks ago. The work is expected is to be done by fall and presented before city council shortly afterwards. If people are interested in helping the carousel foundation, there website is www.threeriverscarousel.org.