Getting back a stolen car may cost you
Posted:
Updated: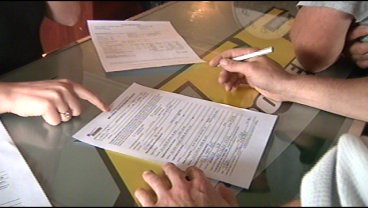 YAKIMA, Wash.-- Yakima is one of the 10 cities in the country where your car is most likely to get stolen. You may be lucky enough to get it back, but it could cost you.
Jon Irvine's motorcycle was stolen almost a month ago. The news that it was found didn't come from police.
"I didn't get no phone call at all... whatsoever," says Irvine
Instead he got an impound notice from a tow company telling him he needed to pay to come pick up his bike. After doing the math on the state-set rates.. $177 an hour plus $45 a day...by the time he got the notice he had racked up around $600 in fees.
"Why would I have to pay for my bike, you know? It got stolen, I have to pay to get it back. That'd be like paying the guy who stole it in the first place," Irvine says.
At Elite Towing, angry customers are nothing new. People just aren't in a great mood when they get their cars towed. It's typically worse with victims of a car theft. However, Elite Towing says they're not out to rob people. In Jon's case they followed all of the notification rules.
"Well, any bill is not a fun bill to pay but I would hope that they would have a little empathy of what it takes to actually get their possessions back," says Elite Towing Owner Allen Dosch.
Allen and his wife Terisha say they realize how frustrating it can be for a theft victim to have to pay to get their vehicle back. At the same time, their company still has to pay for the staff and equipment to recover it.
When police find a stolen vehicle, their procedure is to notify the owner, if they can't get in touch with the owner or of the owner can't get the vehicle within a set time, the vehicle is towed. Despite the cost to them, Elite Towing's contract with YPD allows all vehicle theft victims 24 hours of free storage and a 50-percent discount off their bill.
Today, they worked things out with Jon where he'd only have to pay $88. Jon said he was grateful for the deal and didn't blame Elite Towing.
"I don't feel that I should have to pay it, but they're doing their job and they gotta pay their guys too," Jon says.
Still he wishes police had told him his bike was found before he racked up any fees. Yakima Police say they did try to notify Jon they had found his motorcycle, as they do for all recovered vehicles before they tow them. However, the phone number was incorrect.
Elite Towing recommends that people have comprehensive auto insurance that would cover towing costs if your car is stolen and found.
They also say if you're car is towed, it's best to get in touch with the towing company as soon as possible because you will be responsible for every day the vehicle is there.
Another thing to note, is that the responsible party is the registered owner. So if you sold your car, but did not officially file a transfer of ownership, you are technically responsible for any towing fees incurred on that vehicle.