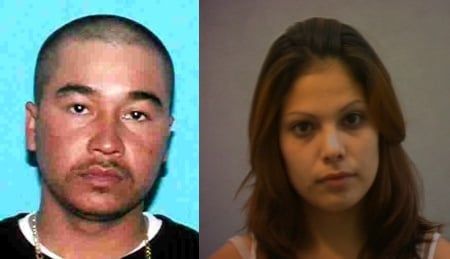 PASCO, Wash. - Pasco police have identified two suspects wanted for their possible involvement in a shooting Monday, July 18th. They say 20-year-old Jessica Chavez and 27-year-old Juan Manuel Perez-Saucedo are wanted for a shooting in East Pasco. They believe Perez-Saucedo shot a 20-year-old Pasco man in the leg. It apparently happened in the victim's own driveway on the 400 block of N. Elm Street.
Perez-Saucedo was last living in the Eltopia area. He is 5'5", 185 lbs. with black hair and brown eyes. He has a tattoo of a rosary on his left hand and the name "Jessica" tattooed on his right forearm. He also goes by the name "Morro".
Chavez was last living in the Pasco area. She is 5'1" tall, 115 lbs. with red tinted hair.
Police believe the two are traveling in a black, older model, Mitsubishi Galant with Washington plates. They are both wanted for felony assault charges. If you have any information, call Pasco Police.