Study released on gang violence in Walla Walla
Posted:
Updated: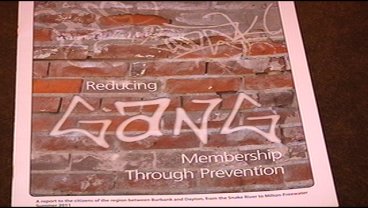 WALLA WALLA, Wash. -- Tattoo's and graffiti. Throughout various neighborhoods in Walla Walla, the evidence of gangs is obvious. But there are some things people still can't handle.
"What is really surprising to me is how young individuals get involved through family members that are currently involved. I've seen pictures of babies with gang paraphernalia is just surprising to me,"explains Rick Griffin of the Walla Walla Community Council.
As a result of these stories, back in November, community members came together searching for a solution to a destructive lifestyle.
Inside the study prepared by the members of the Walla Walla Community Council, it shows gang membership increased between Burbank and Dayton from the Snake River to Milton Freewater.
Currently, police are tracking 300 to 500 active members. Members who will find it harder to get out. "It times past in order for a kid to get out of a gang, he has to be jumped out of a gang. Well now in order to retain their numbers, they're being stabbed out," explains Johnny Johnson.
Johnson is a former gang member now working to prevent young people from making his mistake. But unfortunately it takes other methods to make kids reconsider. "There was a young boy, middle school age who was jumped into a local gang here. He was kicked in the groin 3 times so hard, he can never have children now," says Johnson.
20 year old Julio Cesar Martinez became the first gang related homicide in Walla Walla's history when he was shot in a alley way in May. The family that lives in the house next to his vigil sees a lot of gang members.
"There's a lot of gangs, a lot of them come when the guy died mostly they're young people, everybody like under 18," says Fernando Calbajal.
Griffin says these young people are exactly why the council was founded,"we don't want it to get to a point where it's out of control and so prevention really is the best cure."