Dust Devils Win Game, Series Over Bears, 3-2
Posted:
Updated: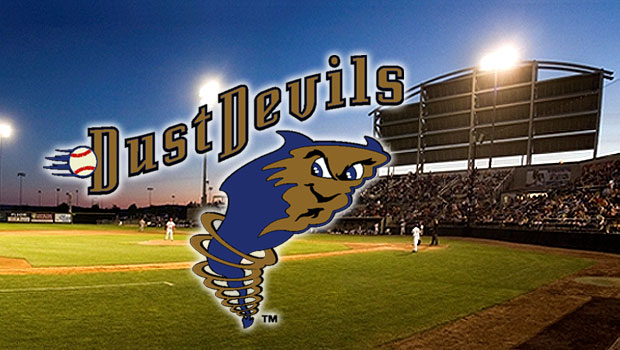 PASCO, Wash. -- The Tri-City Dust Devils won their second consecutive series Wednesday night in front of 1,758 at Gesa Stadium, defeating the Yakima Bears 3-2. The win keeps the Dust Devils in at least a first place tie atop the Northwest League East Division with five games remaining in the first half of the season.
Tri-City (18-15) starting pitcher Ricardo Ferrer went seven innings for the second time this season, allowing two runs on five hits while not earning a decision. Reliever Nelson Gonzalez (5-0) came in for the final two innings for the Dust Devils and earned his team-high fifth win of the season, not allowing a run on one hit.
Yakima (11-22) starting pitcher Adam Kudryk also did not earn a decision, matching Ferrer's solid start with a quality outing of his own. Kudryk pitched seven innings, allowing two unearned runs on six hits. Bears reliever Greg Robinson (0-3) took his third loss of the season, allowing one run on two hits in his one inning of relief.
The two hottest Dust Devils at the plate continued their quality play, as infielder Tim Smalling and outfielder Jared Simon once again led the way for Tri-City. Smalling went 2-for-4 while scoring twice and Simon also went 2-for-4, extending his hitting streak to five games. Tri-City pinch hitter Tyler Massey came to the plate with the bases loaded and one out in the eighth inning and hit the game deciding sacrifice fly to give the Dust Devils the lead for good.
After finishing the home stand with a 6-2 record, Tri-City will now head to Spokane for a three game series with the Indians. The series between the Dust Devils and Indians will play a key role in the Northwest League East Division race, as each team looks to take the first half title and secure themselves a playoff spot. Tri-City returns home on July 27 for a five game series with the Vancouver Canadians.