Hantavirus kills Yakima Man
Posted:
Updated: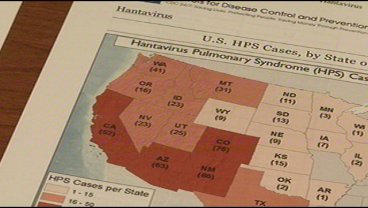 YAKIMA, Wash- The Yakima County Health District says a 50-year-old man died of Hantavirus. The disease is spread by rodents but not between people. Hantavirus is deadly in about one of three cases. This is the first Hantavirus death in Washington since 2009 and the fifth case since 1993.
"The good news this is an infrequent illness...doesn't happen often. The not-so-good news is that when it does happen it can have very severe consequences", says Marianne Patnode of the Yakima County Health District.
The health district recommends people thoroughly clean any areas where rodents may have been using the following guidelines:
-wear a mask and gloves
-Open all doors and windows for at least 30 minutes before cleaning.
-Wear gloves and a mask to protect from exposure.
-DO NOT use vacuums, brooms, dusters or anything else that can stir up contaminated dust.
-Thoroughly wet contaminated areas with a household disinfectant or bleach solution (1 ½ cups of bleach per gallon of water). Let soak for at least 10 minutes. Using a damp towel, clean up the material, then mop or sponge the area with bleach solution or household disinfectant.
-Spray dead rodents, nesting materials and feces with disinfectant until soaked and double-bag along with all cleaning materials. Dispose of appropriately for your area.
-Disinfect gloves before taking them off and thoroughly wash hands afterwards.