Gang members go on a spray painting spree
Posted:
Updated: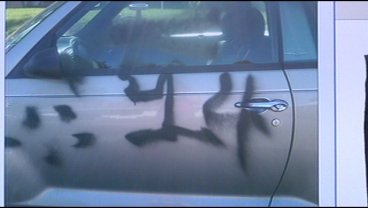 KENNEWICK, Wash. -- Kennewick Police Officers were busy Sunday morning after getting more than 20 reports of graffiti vandalism within several blocks of each other in East Kennewick
The taggers were likely in a gang and hit a variety of structures from buildings, to mail boxes to fences and even cars.
One resident who lives on W. 3rd came out side and was able to wipe away the red and black paint and also told his neighbor that her car was hit.
"This really drives the price up because graffiti on a fence can be either painted over or pressure washed by the GAP (Graffiti Abatement Program) team. Somebody spray paints your car, that's to the body shop," says Sgt. Ken Lattin with KPD.

One of the victims who had their car tagged said he saw silver sporty car, possibly a Honda, with loud exhaust. He said he did not see anyone, but heard female and male voices outside. When he came outside, his car was ragged.
The Graffiti Abatement Program will be working with property owners to remove the paint. The Kennewick Housing Authority manager said they try to remove the damage within 24 hours.
Anyone with information on the identity of the suspects in this case is encouraged to call while remaining confidential. Call the Crime Stoppers line at 586-TIPS (8477), 1-800-222-TIPS (8477) or visit www.tricitiescimestoppers.org