Scammers pretend to work for legitimate companies
Posted:
Updated: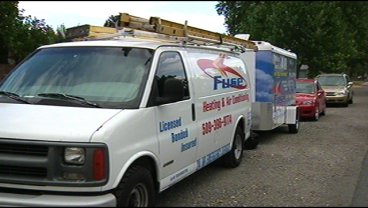 RICHLAND, Wash.--Scammers pretend to work for legitimate companies. What happens is scammers go to a home and pretend they work for a business that is legit and well known but they do not.
When the real owner of Fuse Heating and Air Conditioning found out that another man was posing as him, and doing jobs on his company's behalf, the first thing that came to mind was his company's reputation he's worked hard to build and the safety of his customers.
Jose Jimenez says his poser can do a bad job and then the homeowner will have to take the hit. He says "if they're not qualified as a contractor, the homeowners are going to suffer the consequences because they are not going to get a good quality job done."
Norma Miller with the Better Business Bureau says there are a few red flags too look out for. One of them is to see if workers that come to the home are in uniform or have some kind of business logo on their vehicle. She says "if a white van pulls up to your door and there is no sign on it. That would be a big red flag to me."
Jimenez says "all the good companies, we try to be with uniform. As you can see I have my uniform, my badge, my name, so people can recognize who I am with."
If you have any doubts or suspicions, it is wise to call up the company to make sure that employee actually works for them and when hiring a contractor, run their labor and industries registration number to make sure they are legit.