Boehner Finds Himself Boxed In, Desperately Seeking A Solution
Posted:
Updated: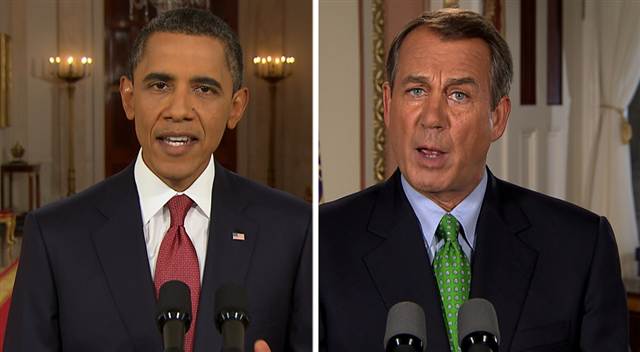 UPDATE/NEW YORK (CNNMoney) -- With the clock ticking down, House Speaker John Boehner will rewrite his debt ceiling legislation to ensure that it meets his oft-stated pledge to cut spending more than Congress increases the federal borrowing limit.
That was the word from Boehner's office after the Congressional Budget Office on Tuesday evening estimated that the Budget Control Act of 2011 would reduce deficits by only $851 billion over 10 years.
By contrast, Boehner's bill would have allowed for an immediate debt ceiling increase of $900 billion.
"We promised that we will cut spending more than we increase the debt limit -- with no tax hikes -- and we will keep that promise," Boehner spokesman Michael Steel said in a statement to CNN. "As we speak, congressional staff are looking at options to rewrite the legislation to meet our pledge."
Boehner's plan -- and a competing Democratic bill in the Senate -- are the only live bills this week that would increase the debt ceiling by Aug. 2. The ceiling must be raised by then, when the Treasury Department estimates it will no longer be able to pay all its bills without borrowing.
A House vote planned for Wednesday was pushed back a day following the CBO report.
The CBO said the bulk of deficit savings under Boehner's original bill -- $710 billion -- would result from caps on discretionary spending.
The other big chunk of savings -- $136 billion -- would come from reduced interest costs on the debt.
Almost as soon as he proposed it on Monday, the bill came under fire from the most conservative members of his caucus and some conservative groups for not going far enough to reflect the principles of the Cut, Cap and Balance Act, which the House passed last week.
Cut, Cap and Balance would, among other things, cut total spending by $111 billion for fiscal year 2012. It would also require a balanced budget amendment to the Constitution that would cap total annual spending at 18%.
The spending caps in Boehner's bill would result in small savings in the early years, but the savings would grow over time.
In addition, the Boehner bill would require that both chambers of Congress vote on a Balanced Budget Amendment but doesn't require that one be enacted.
PREVIOUS STORY:
UPDATE: A spokesman for House Speaker John Boehner says House Republican leaders are working to rewrite their deficit-reduction plan after receiving an estimate that it won't cut spending as much as advertised.
Spokesman Michael Steel says House Republicans promised to cut spending by more than they will raise the debt ceiling, and they plan to keep their promise. Steel tweaked the White House for not submitting a plan that could be independently assessed.
Boehner had promised a package that would cut $1.2 trillion in spending over the next decade. The nonpartisan Congressional Budget Office said Tuesday the package would cut less than $1 trillion.
PREVIOUS STORY:
UPDATE: The White House says House Speaker John Boehner's Republican debt ceiling plan cannot pass in the Senate. But White House spokesman Jay Carney says the administration remains confident Congress will "act appropriately" and extend the nation's borrowing authority before an Aug. 2 deadline.
Carney stopped short of issuing a veto threat against Boehner's plan.
Carney said the Aug. 2 deadline is real and that the government has exhausted all "wiggle room" to meet its obligations.
Boehner's plan offers a two-step procedure that would increase the debt ceiling by about six months, coupled with $1.2 trillion in spending cuts. Another increase would come after broader cuts are approved.
A competing Democratic plan in the Senate would extend the debt ceiling into 2013, as demanded by the president.
PREVIOUS STORY:
Washington (CNN) -- High-level debt ceiling talks continued between administration and congressional officials Tuesday as lawmakers struggled to devise a way to overcome deep partisan divisions and avoid an unprecedented national default that could now be little more than one week away.
President Barack Obama made a last-ditch plea for compromise in an address to the nation Monday night, calling the political showdown "no way to run the greatest country on Earth." The president singled out House Republicans for intransigence.
"The American people may have voted for divided government, but they didn't vote for a dysfunctional government," Obama said. "If you want a balanced approach to reducing the deficit, let your member of Congress know. If you believe we can solve this problem through compromise, send that message."
In a televised response, House Speaker John Boehner, R-Ohio, insisted that excessive government spending is the root cause of America's financial problems and that expenditure cuts are the only solution.
"The sad truth is that the president wanted a blank check six months ago (to raise the debt ceiling), and he wants a blank check today," Boehner said. "That is just not going to happen."
If Congress fails to raise the $14.3 trillion debt limit by August 2, Americans could face rising interest rates and a declining dollar, among other problems. As the cost of borrowing rises, individual mortgages, car loans and student loans could become significantly more expensive.
Some financial analysts have warned of a potential stock market crash.
Officials also warn that, without an increase in the debt limit, the federal government will not be able to pay all its bills next month. Obama recently indicated he could not guarantee Social Security checks would be mailed out on time.
Months of increasingly tense negotiations have failed to bring a deal that can win approval from all of the necessary players: the Republican-led House, Democratic-led Senate and the White House.
Obama has pushed for a comprehensive plan that includes spending cuts, increased tax revenue and entitlement reforms, while Republicans have sought to shrink government by proposing spending cuts and reforms without increased revenue.
Obama said Monday night that "it's not fair" to make massive cuts to programs affecting the poor and middle class without asking for sacrifices from wealthy Americans and large corporations as well. As he has in recent weeks, the president called for "a balanced approach" that includes large spending cuts along with revenue hikes -- including a halt to Bush-era tax cuts for families earning more than $250,000 a year -- to address the nation's deficit.
"The only reason this balanced approach isn't on its way to becoming law right now is because a significant number of Republicans in Congress are insisting on a cuts-only approach -- an approach that doesn't ask the wealthiest Americans or biggest corporations to contribute anything at all," Obama said. >>>CLICK HERE TO READ MORE FROM CNN