Renovation on shopping plaza
Posted:
Updated: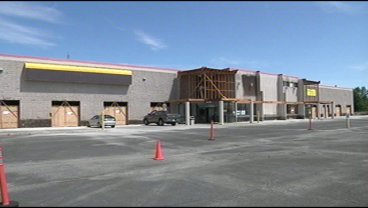 PASCO, Wash. -- A Pasco mini-mall struggling to attract new tenants and customers, appears to be getting a second life with new development.
"Bring the business back to where it belongs," says Jay Martinez, co-owner of 509 Furniture in Pasco's River view Plaza.
If you ask anyone who's been around long enough, they'll tell you Pasco's River view Plaza used to be where the business was. "There was foot traffic all the way from one end of the store to the end of K-mart. We had a lot of walk in's. It was really pumped up here," remembers hair stylist Mainerva Vidaurri.
But now, the sight of a near empty parking lot with two vacant retail stores on both ends is what's left. But a Western Washington developer wants that to change.
"We really didn't choose the location, the location sort of chose us. My developer looks for preparations that he feels he can add value to," says Architect Todd Lawson.
Alex Kim of Bellevue based General Advertising Agency bought the mall last July for $2 million dollars. While neither the owner or the architect wanted to say how much work will cost, they're banking on any money spent being a grand investment.
"This is a really important part of Pasco. It's sort of the connector between Road 68 and downtown. It's right next to the freeway. 20,000 cars drive by here every day," explains Lawson.
People like Vidaurri, who has worked at "The Hair Company" for over 30 years says she has witnessed the painfully slow times,"well it's been really slow like even the first part of the week we used to be really busy all the time."
Businesses are hoping the renovation trickles down to more customers. "I expect it and I wish it," Jay Martinez bluntly explains. And right next door Mainerva Vidaurri shares in that hope,"we're hoping this place will get us busy like it used to be."
When complete, the newly named "Plaza International will have office units, retail, and entertainment shops, and restaurants are expected to occupy space.
The architect overseeing the project says he expects the first new tenant to move in by October, and for the entire renovation project to be complete in two years.