Yakima lawyer suspended by state bar
Posted:
Updated: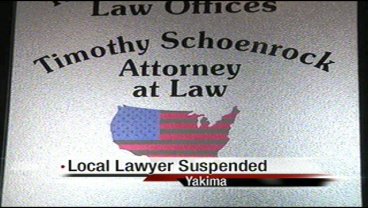 YAKIMA, Wash.-- Complaints have been coming forward against a Yakima lawyer. He's now under suspension by the State Bar Association.
Timothy Schoenrock has what's called an interim suspension, not because he's been found guilty of anything, but because he's failed to respond to the bar association's investigation.
In our last story on him we talked to a woman who paid him thousands of dollars to work on her husband's immigration case, but he didn't do the work. At least three complaints were filed with the bar association including one from the Yakima County Prosecutor. The Bar says Schoenrock never appeared for his hearing so he currently cannot practice law. A disciplinary hearing will decide if that will be permanent.
"If the recommendation is for the lawyer to de suspended or disbarred after the review by the disciplinary board, it would go to the state supreme court. Any lawyer who is suspended for any reason who is found to be practicing law can be disciplined," Judy Barrett of the Washington Sate Bar says.
The complaints in Schoenrock's file include failure to appear arrests on traffic tickets and an accusation that he snuck a client's girlfriend into the county jail.
The bar will still hold a disciplinary hearing on Schoenrock. They will make a final ruling that could include suspension or disbarment.
As for people who have asked the bar association to reimburse them for money they say Schoenrock cost them, they'll have to wait until the bar makes that ruling.