Youth baseball team fundraising for trip to World Series
Posted:
Updated: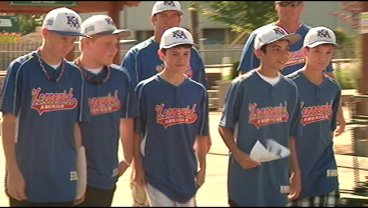 KENNEWICK, Wash.--The Kennewick American baseball team is going to east coast for the Cal Ripken World Series, but first the twelve-year olds need to raise over $20,000 to get there.
With less than two weeks until the tournament in Aberdeen, Maryland, the team needs money for their trip.
"We need money to go the world series in Maryland; and we need about $22,000," says Tracer Bjorge the second baseman for the team.
With a nearly $2,000 per family fundraising requirement, the team is looking to local businesses, like Heritage Nursery and Garden Center, to donate.
"It's expensive last minute travel arrangements for all the families, so I'm here to help them out and give them a donation and wish them good luck," says owner Randy Mendenhall.
Ryan Bassett, father of outfielder Cole Bassett, is urging all to get involved with donating.
"Please help out! There are parents who, including myself, that really want to watch our kids play in the world series. This is a once in a lifetime opportunity for, not only the kids, but the parents too."
The goal is simple for the youth baseball team but it's not all work and no play for the team of twelve year olds, as Assistant Coach Jared Cope plans on giving the boys some rest before their trip.
"They'll have the weekend off to go down to the boat races and do some more fundraising. So, they'll have some vacation time too, and still get to work hard and live their dreams at the tournament."
If you'd like to donate to the team, they have an account set-up at Gesa Credit Union. Or, send a check made payable to:
KAYB
PO Box 7102
Kennewick, WA 99336
If you have questions call John Grigg at (509) 521-3978.