Grassroots movement to change Yakima County's government moves forward
Posted:
Updated: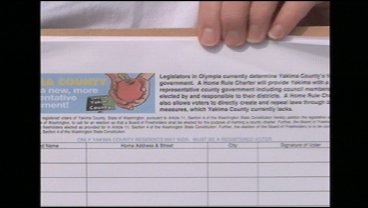 YAKIMA, Wash- A few months ago we told you about a potential shake-up in the Yakima County government. Now it looks like home rule charter is coming to a ballot near you.
At our last update in April volunteers were still gathering the signatures needed to get their proposal on the ballot. Wednesday morning volunteers with Central Washington Progress turned in the final signatures to the county auditor's office.
The group is looking to take some of Olympia's lawmaking powers and put them in the hands of the county likely restructuring the county government. A switch to home rule charter would put the responsibility for molding a new county government in the hands of a select group. Voters would elect 15 representatives called *freeholders* who would write a charter for Yakima County outlining how the new government would work.
"We know there are some really smart, wonderful people that have studied policy who have impeccable character that are considering running", says Mary Baechler, a community organizer with Central Washington Progress.
The free holders could decide to either keep the current system of three county commissioners, or develop a completely different one. Supporters of home rule charter hope a new county governing structure allowing for more representation will be adopted. Whatever the free holders propose has to be approved by voters.
Assuming the auditor's office certifies the signatures, the county commissioners will decide the guidelines for electing freeholders. Depending on the guidelines they establish, Yakima County residents would be free to run for those positions.