Local nurses picketing outside hospital
Posted:
Updated: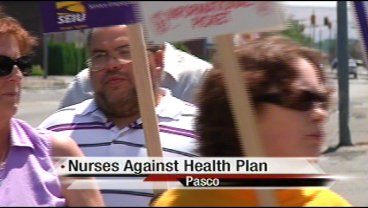 PASCO, Wash.—Some local nurses and healthcare workers are speaking out about a proposed health plan that would slash some of their benefits.
Lourdes Medical Center is trying to negotiate a union contract with their nurses, but some don't agree to the terms. Thursday a handful of Lourdes employees picketed at the hospital. They say the new contract would hurt their Extended Illness Bank. The EIB is for people who have a catastrophic event. They can get full-time paid leave for up to 14 weeks.
The problem is for the past few years the state said employees could also leave for sick family members. Now the hospital is paying with money they don't have, but some nurses say it's their right.
"I have a husband with a heart condition, so I've been using my EIB, and they're trying to say I can't use it for him," says Karen Collins, Lourdes nurse.
"So, if you're grandpa in Georgia got sick and had a procedure you could come to us and say I want to be off and go visit with grandpa and be there for an extended period of time," says John Serle, Lourdes Health Network CEO.
Serle says they can't pay wages outside of their pay grade. Some proposed ideas are to increase the wait time from three to seven days until employees can access their Extended Illness Bank, and reduce the bank hours to 500.
There's no set date on when an agreement needs to be reached.