Flying in a stunt plane
Posted:
Updated: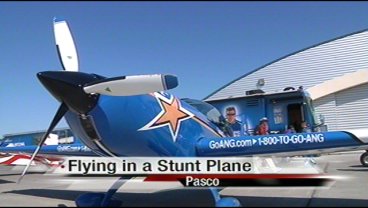 PASCO, Wash. -- The Air National Guard Panzl S330 aerobatic plane is one of many stunt planes. But, before going up in the air, safety is always first.
Suiting up, you're given a parachute pack, strapped in, and finally take your place in the plane. Now it's time for the fun to begin !!!
As the flight starts, things are smooth, but just a couple of minutes into the flight, pilot Lieutenant John Klatt decides to shake things up.
During the flight, speeds reach around 250 mph, flying upside down and performing a variety of maneuvers such spins and loops in the air.
After landing, Klatt tells our Bryant Maddrick how he did, "You got to see a lot. I gave you a pretty aggressive ride. I tell you what, even as aggressive as that was, that might be one tenth of what I'll do over the Columbia River this weekend," explains Klatt.
He will perform Saturday and Sunday at the Tri-City over the air show beginning at 10 and spectators can expect to see a lot of their favorite moves.
"We did a lot of snap rolls, we flew inverted formation right next to the air guard 836, I'll tell you what, being a member of the air guard has made my dreams come true and I just want to share that with the fans that come to the show," explains the pilot.
Not a lot of people can handle all of the spins, and flips, and instructors recommend you don't eat or drink anything if you're going to take flight. But certainly a great experience up in the air.