Rookie unlimited hydro driver takes the wheel
Posted:
Updated: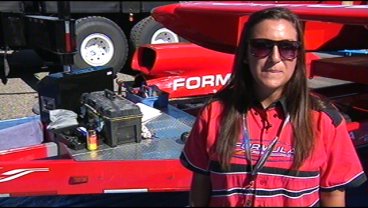 KENNEWICK, Wash.—A rookie unlimited hydroplane driver is taking the wheel this weekend, and she says she's got some big girl power backing her up.
24-year-old Bianca Bononcini hopes to qualify on Friday and become the first female to qualify in an unlimited turbine engine boat.
"They're basically like driving semi trucks on water. They're 6,700 pounds, 300 horsepower, they're turbine jet engines and they go about 200 miles an hour," says Bianca Bononcini, unlimited hydroplane driver.
Bononcini is only 5'4" and says her size is her biggest challenge. She's had to build upper body strength to be able to turn a boat speeding at 180mph.
"They're not the easiest thing in the world to turn," says Bononcini.
Bianca says she fell in love with hydro racing as a child when she used to follow her dad around during his competitions. Now he's cheering her on.
"I'm out here now with guys I used to admire, and I used to go up to and have them sign my t-shirts, my cards and all these kinds of things, and now they know who I am," says Bononcini.
Now she has young boys and girl who knows who she is. She says if she could tell young girls one thing, it would be to follow your dreams.
"I don't think when I was a little girl going to boat races I ever thought this was possible, and it's surreal to me right now, but anything boys can do girls can do better,' says Bononcini.