Dust Devils Winning Streak Snapped in 9-5 Loss to Vancouver
Posted:
Updated: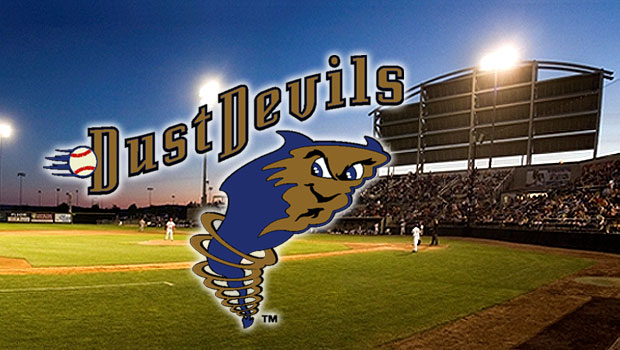 PASCO, Wash. -- The Tri-City Dust Devils had their hot streak cooled by the Vancouver Canadians Friday night, losing 9-5 at Gesa Stadium. The loss snapped the Dust Devils' seven game winning streak and gave them their first loss of the second half of the season. The Canadians got to the Tri-City pitching staff, which had been lights out of late, getting 15 hits on the night.
Tri-City (3-1 second half, 25-17 overall) starting pitcher Vianney Mayo (2-2) threw at least five innings for the sixth consecutive start, but took the loss for the Dust Devils. Mayo went six innings, allowing three runs on eight hits while striking out five and walking none. He did not get much help from the Tri-City bullpen, which allowed six runs over the final three innings.
Vancouver (1-3, 25-17) starting pitcher Zack Breault pitched well, going four shutout innings and allowing just three hits while striking out five and walking two. Canadians reliever Bryan Longpre (3-2) earned his third win of the season, going three innings and allowing one run on two hits.
At the plate the Dust Devils tallied eight hits on the night. Infielder Tim Smalling and catcher Ryan Casteel each extended their hitting streaks to five games, going 1-for-5 and 1-for-4 respectively. Outfielder Leo Reyes was 2-for-5 on the night with two runs batted in.
Saturday night at Gesa Stadium will feature a post-game fireworks show presented by Davita Mid-Columbia Kidney Center. It is also Boy Scout Night at the ballpark with various Boy Scout groups in attendance. Dust Devils righty Nelson Gonzalez will start on the mound as right-hander Jesse Hernandez is the starting pitcher for the Canadians. First pitch is at 7:15 p.m.