Tri-City Gets Fifth Shutout of Season, Third of Series
Posted:
Updated: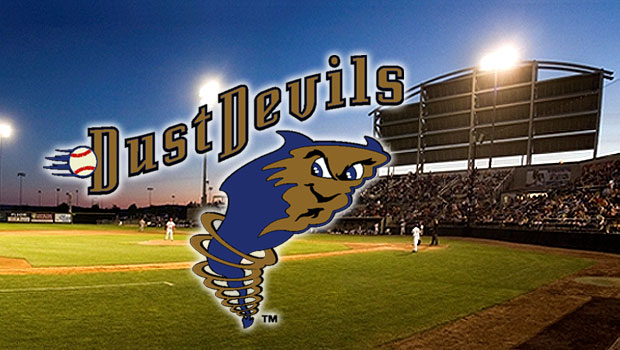 Pasco, WA--- The Tri-City Dust Devils ended their five game series with the Vancouver Canadians with style Sunday night, shutting out Vancouver for the third time 4-0. The win is the team's 16th in their last 20 games and keeps them in first place in the Northwest League East Division.
Tri-City (5-1 second half, 27-17 overall) starting pitcher Tyler Gagnon (2-1) continued his stretch of impressive starts, throwing six shutout innings. In those six innings Gagnon allowed two hits and walked one while striking out eight. Reliever Ken Roberts (Sv, 5) worked the final three innings, allowing three hits and striking out five on his way to his fifth save of the season.
Vancouver (1-5, 25-19) starting pitcher Kramer Champlin (0-1) pitched well but took his first loss of the season in his second start for the Canadians, going four innings and allowing two runs, one earned, on four hits. Vancouver relievers Taylor Cole and Alex Pepe combined to allow two runs over the final five innings.
The Dust Devils didn't have quite the offensive power they did Saturday night, but got hits at the right time Sunday night. Tri-City outfielders Brian Humphries and Jaron Shepherd had two hits each, going 2-for-4 and 2-for-2 respectively. First baseman Tyler Massey was 1-for-3 on the night with a run batted in, giving him five in the last three games.
After a day off Monday, the Dust Devils head to Eugene to take on the Emeralds in a five game series. Tri-City defeated Eugene four of five times at home and will be looking to continue their success on the road. The team returns to Gesa Stadium on August 7th for a three game series with East Division rival Boise Hawks.