TRi-CITIES 2011: Villwock Conquers 7 Boat Field to Take the Columbia Cup
Posted:
Updated: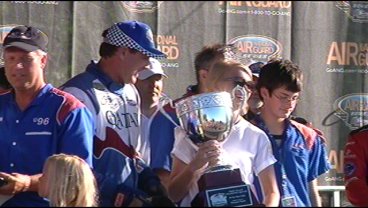 Kennewick, WA--- Plenty of storylines in Sunday's the 2011 Columbia Cup final. Dave Villwock in the U-96 Spirit of Qatar was trying to win the cup for the first time since 2007. Kip Brown fighting to keep his team, U-17 Miss Red Dot, on top the national points standings. All the meanwhile, Steve David, barely accumalated enough points to make the seven boat field in the final.
When David punched his ticket he jumped out to an early lead, and stayed in front for the first two laps. Eventually, Villwock in the U-96 made a pass on the U-1 on rough waters, on the third lap to take the lead for good. Claiming his 8th Columbia Cup victory, in a tough race for all drivers. David finishing second, and Brown took third.
David after the final talked about his mental approach in the final after a tough weekend racing, where he finished last in two of the three heats. David said, "You just have to keep the plan. It's like life, forget anything that's happened before, and just concentrate on what it is you have to do... And that's what we did and nailed the start."
Villwock, the sports all time race wins leader said, "We've been working on a good rough water race boat all weekend, because we knew in the final with seven boats it was going to be rough. So we had to get something to get over that. Looked like in the final that was the difference."
Brown, who watched his team go from first to second in the high points standings, said, "Got the snot beat out of me the entire time. It was absolutely worth it because we got third. Very... Very happy to be apart of the Red Dot team."