Sweets Get By Bend, 6-3
Posted:
Updated: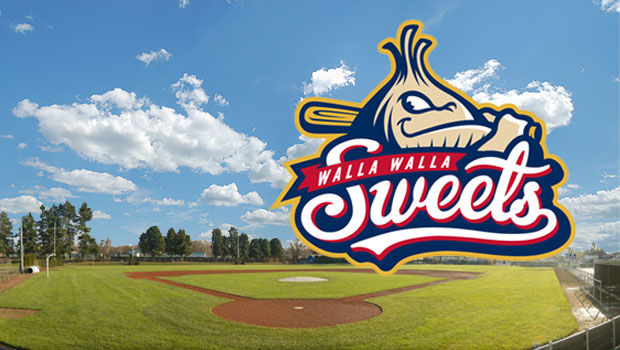 BEND, Ore. -- With the taste of defeat still in his mouth, Ryan Richardson came back on short rest and pitched one-run ball for six innings and the Walla Walla Sweets backed him 13 hits in a 6-3 victory over the Bend Elks on Wednesday at Vince Genna Stadium.

Facing Elks four days after throwing a complete game three-hitter in a 3-2 loss against them, the right-hander twirled another brilliant game and the Sweets offense opened up a 6-1 lead with five runs over the course of the fifth, sixth and seventh innings. And just as the Sweets squelched the Elks ninth inning rally, the Kitsap BlueJackets were finishing up a 1-0 victory over Bellingham and giving Walla Walla sole possession of second place in the East Division standings.

Walla Walla took a 6-1 lead into the ninth but Bend rallied off reliever Sean Santschi. Nick Wagner walked to start the inning but Santschi struck out Taylor Noyer for the first out. He then got Cullen Hendrickson to ground to second but the throw to second base was wide and allowed Wagner to take third. Santschi got a pop out for out number two but then walked the next three batters to force in two runs. The Sweets called on Simon Anderson and his 0-1 pitch to Jordan Brower was chopped to first but instead of an easy out, the ball bounced off Austin Heaps and the flip to Anderson beat Brower by a half-step to end the game.

Up until that point it had been all Sweets. Clinging to a 2-1 lead in the sixth, Walla Walla earned some breathing room. Andrew Mendenhall doubled to start the frame and Zach Wentz followed with a single to put runners on the corners. Heaps hit a fly to left but Brower misjudged it and he missed it, allowing Mendenhall to score and Wentz and Heaps to advance. Chance Kopacz followed with an RBI ground out to make it 4-1.

Walla Walla got right back on the sticks in the seventh, plating two more runs. Alex Stanford picked up his third hit with a single to left and Mendenhall scored him two batters later with a two-out double to left-center. Wentz followed that by drilling an 0-2 pitch up the middle to make it 6-1.

The Sweets pitching did the rest. Richardson used an array of off-speed pitches and well placed fastballs to pick up his third win of the summer. After recording a 1-2-3 first, he struck out Kyle Buchanan with two on to end the second and then struck out Wagner to leave a man on second in the fourth. On the night, he allowed the leadoff batter to reach just once and that was in the sixth. He allowed his only run in the fifth on a Michael Benjamin single to center. Richardson hit two batters in the inning and bobbled a potential double play ball prior to the single. He threw 84 pitches on the night, struck out four and gave up just six hits.

WW went to Jimmy Litchfield in the seventh and he continued to frustrate opposing batters. Topping out in the mid-seventies, Litchfield worked two perfect innings of relief and threw 15 pitches, 13 for strikes. He got four ground outs and struck out Royce Bollinger to end his night in the eighth. Anderson's finish earned him his third save of the summer.

The top four hitters in the Sweets lineup, Stanford, Gottschling, Mendenhall and Wentz, went a combined 9-19 with five runs and two RBI. Kevin Hawk also had two hits for the Sweets, extending his hitting streak to seven games. Wentz's sixth inning single extended his streak to six-straight. Brower was the only Elk with multiple hits and Benjamin drove in two runs. Facing the Sweets for the second time in a week, Bend starter Daniel Chavez gave up four runs on nine hits over six innings and struck out five in losing his third game this summer.