Farmer's Market Week starting Sunday
Posted:
Updated: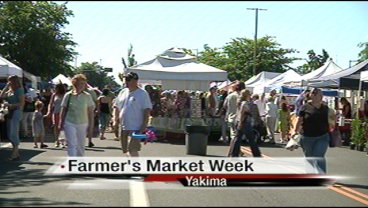 YAKIMA, Wash.-- Gov. Christine Gregoire proclaimed this week as the state's official Farmer's Market Week. Vendors at the Farmer's Market in Downtown Yakima were thrilled to hear it.
The Washington State Farmer's Market Association reports that in 2010 WSFMA markets reported about $39 million in sales. Money that in these tough economic times is needed.
Gov. Gregoire said in a statement, that Farmer's Markets not only support farmers but bring communities closer together.

Vendors in Yakima Sunday said it's been great to see local farmers and businesses grow and flourish because of the market.
"I have a lot of people that come to our booth and they had no idea we were even out there," said Reid Mykel of Nile Valley game Processing. "And so it definitely gets our name out there more."
"We are not commercial at all. We don't do you-pick, we raise them to go to farmer's markets," said Terryl Aichele of Aichele Farms.
New vendors continue to pack our local market week after week, even attracting farmers from out of state. They say they hear such good things about ours that they have to come see it for themselves.
The official end of the Farmer's Market Week is August 13th and several markets from around the state are planning on touring to celebrate the proclamation.