Tri-City Shuts Out Boise, 2-0
Posted:
Updated: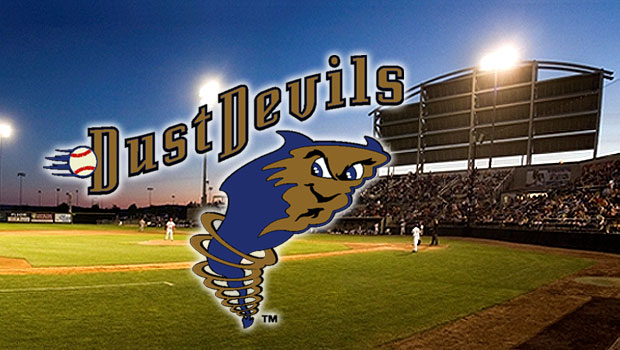 PASCO, Wash. -- The Tri-City Dust Devils extended their Northwest League East Division second half lead to two games and tallied their eighth shutout of the season Sunday night, defeating the Boise Hawks 2-0. The shutout was the Dust Devils' second in as many games and gave them six shutouts in their last ten games.
Tri-City (8-4 second half, 30-20 overall) starting pitcher Ben Alsup had another impressive start, throwing six shutout innings and allowing five hits while striking out two. Despite not earning a decision, Alsup lowered his earned run average to 2.10 on the year. Reliver Craig Bennigson (2-2) earned his second win of the season, working two shutout innings of relief. Righty Rafael Suarez (SV, 5) earned his fifth save of the season, working a perfect ninth.
Boise (6-6, 23-27) starting pitcher Willengton Cruz was just as good as Alsup, shutting out the Dust Devils in his five innings on the mound. Cruz allowed just one hit, but walked four while striking out four on the night. Reliever Jean Sandoval (1-1) was tagged with his first loss of the 2011 season, allowing the two Tri-City runs while pitching the final three innings for Boise.
The Dust Devils' offense managed just three hits on the night, but had timely hitting in the seventh inning. After Tri-City catcher Ryan Casteel reached on an error, shortstop Taylor Featherston hit a triple to bring him home and give the Dust Devils the first run of the game. Featherston, infielder Tim Smalling and designated hitter David Hernandez each had a hit in the game.
Game two of three between the Hawks and Dust Devils is Monday night as Tri-City tries to win its tenth series of the season. Monday night will also be Coca-Cola Monday at Gesa Stadium, with all 22-ounce Coke products on sale for just one dollar. Right-hander Chris Jensen will start on the mound for the Dust Devils and righty Ben Wells will oppose him for the Hawks. First pitch is at 7:15 p.m.