Sen. Murray in Yakima to talk job training
Posted:
Updated: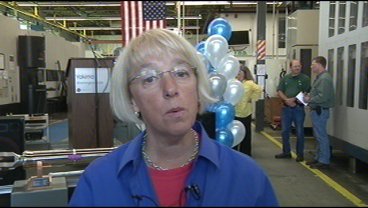 YAKIMA, Wash.-- A recent jobs report estimates that there are almost 1,000 job openings in Yakima County. The problem is, employers say they can't find people with the skills needed to fill them.
Senator Patty Murray says she's working hard to fix that in Yakima and around the state.
"We have a skills deficit that is keeping our economy from getting back on track. And that is an important component to this and that's why I'm so focused on it," said Sen. Murray.
The Workforce Investment Act will provide training to people including those who have recently been laid off. Sen. Murray says she's working hard to get it passed, but she wants to focus on training for local jobs.
"What I want to do is make sure that each community works on what jobs are available in their community," Sen. Murray said.

GE Aviation agrees. They say that with a school like Perry Tech. close by, they are able to hand pick students that fit their needs, something they've done in the past.
"Our assembly and test technicians are world class. So we appreciate having neighbors like the Perry Technical Institute right across the street," said Mark Sieber, plant manager at GE Aviation.
"I know I would not be here if I had not invested my time and effort to finish my education in technical training from Perry," said Alex Dimas, GE Aviation employee and Perry Tech. graduate.
Senator Murray is also working on legislation that would get high school students skills training.
"I think it's really important that young people growing up in Yakima know that if they get the kind of skills they need... that those skills actually translate into a job that they can get in their own community," said Sen. Murray.
Unemployment in Yakima continues to be higher than the national average but Senator Murray says that with more job retraining people will be better able to rejoin their local workforce.