Dust Devils Shut Out Hawks, 3-0
Posted:
Updated: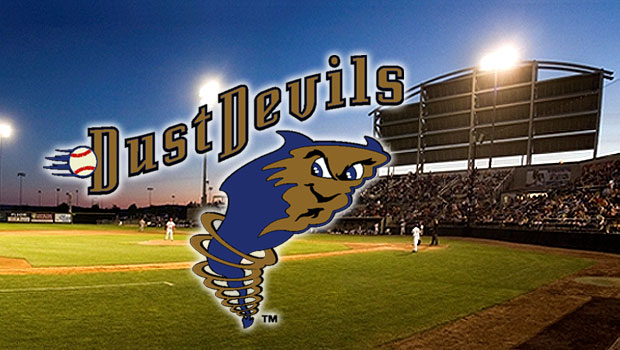 PASCO, Wash. -- The Tri-City Dust Devils earned their second series sweep of the year Tuesday night, defeating the Boise Hawks 3-0 in front of 1,984 at Gesa Stadium. The shutout was also the ninth of the season for the Dust Devils, who are now one shutout shy of the Northwest League record for shutouts in a season, 10, recorded by the 1990 Boise Hawks and 2002 Vancouver Canadians.
Tri-City (10-4 second half, 32-20 overall) starting pitcher Christian Bergman (6-3) continued his string of shutout performances, throwing seven scoreless innings on his way to his sixth win of the season. He has now thrown 30 2/3 consecutive shutout innings over his last four starts, just 1 1/3 innings shy of the Northwest League record of 32 consecutive shutout innings. Reliever Rhett Ballard (SV, 1) earned his first save of the season, throwing two perfect innings to secure the win for Tri-City.
Boise (6-8, 23-29) starting pitcher Yao-Lin Wang (3-3) went five innings and allowed two runs en route to his third loss of the season, striking out eight and allowing two hits on the night. Relievers Joe Zeller and Bryce Shafer combined to allow one run over the final three innings for the Hawks.
At the plate Tri-City managed six hits on the night, including a solo home run by center fielder Brian Humphries. Humphries went 3-for-3 on the night, with the home run as well as two doubles, three runs scored and two stolen bases. Infielder Tim Smalling and outfielder Tyler Massey also each had one run batted in on the night.
The Dust Devils will now travel to Everett to take on the Northwest League West Division-leading Everett AquaSox in a five game series. Tri-City went 3-2 against Everett in the first series of the season this year. The Dust Devils will return to Gesa Stadium August 18th to take on the Yakima Bears in a three game series.