Food for Life Cooking Classes
Posted:
Updated: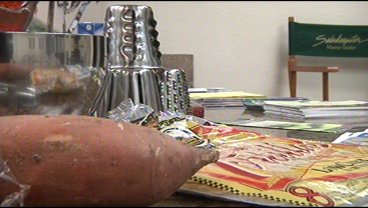 KENNEWICK, Wash.—About 62% of people in Benton and Franklin Counties are either obese or overweight, and now, one local nurse is trying to reduce that number.
Nancy Lyons is the instructor of Food for Life, a nutrition and cooking class that focuses on reducing disease and improving health. The basic idea is to eat more vegetables, fruits, grains and legumes and to find meat and dairy alternatives. Lyons says just by changing a few eating habits you can reduce your chances of getting cancer, diabetes and heart disease.
A big question for many is how can families afford healthy eating? Lyons says to shop at local farmers markets and look for sales.
"Well, I think the most economical choice is rice and beans. I think it's easy to do. You can buy some dried rice and dried beans in bulk and soak them over night and cook them up, and you have a full compliment of healthy nutrients," says Nancy Lyons, Food for Life Instructor.
Lyons says by eating this way she's seen people drop 7 pounds in a month and reduce their cholesterol.
The courses run two hours long, are free, and you get to taste the foods. Lyons will cover research behind the method and how to prep meals.
An introduction class on How Foods Fight Diabetes is Food for Life
Diabetes Nutrition and Cooking Classes
Saladmaster Kitchen
3311 W. Clearwater Ave., B110
(Near the Department of Licensing - Enter on Johnson St.)
Kennewick, Washington 99336
Classes are Wednesday from 6 p.m. to 8 p.m.
6/06/12: Introduction to How Foods Fight Diabetes
6/13/12: The Power of Your Plate and grocery cart
6/20/12: Understanding Type 2 Diabetes
6/27/12: Designing a Diet for Maximum Weight Control
These classes are Wednesdays from 6 to 8 p.m. There is a $50 fee this for four-class series.
Registration information: Please e-mail
nancylyons@charter.ne
t; or call 509-531-8901.
Visit website for more information.
See More