OFM predicts new liquor Initiative will pump millions into Washington
Posted:
Updated: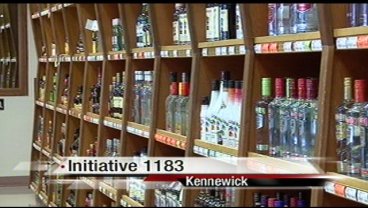 KENNEWICK, Wash. -- Costco Wholesale put in a lot of effort into getting Initiative 1183 on the November ballot. Their efforts paid off, and now voters will decide if privatizing liquor is the right thing for Washington State.
The state's Office Of Financial Management released their findings Wednesday, and this year things are looking quite different. According to their estimates, last year's initiatives1100 and 1105 would have resulted in a loss of anywhere from $51 to $146 million for the state of Washington.
Wednesday's report shows just the opposite. OFM Director, Marty Brown says his office estimated Initiative 1183 would generate an extra $42 million a year for the state and about $38 million for local government over the span of six years. That adds up to about 480 million extra dollars.
"This year's initiative is different from the previous one in that includes a new fee of about 17%, on all liquor sales on retailers, and 5-10% sales for distributors, which would act as a replacement for the current state mark up.," says Brown.
In addition to revenue, I-1183 is also different when it comes to access. Initiatives 1100 and 1105 wanted to sell liquor at gas stations and convenience stores, but I-1183 sticks to large grocers more than 10,000 square feet.
But some are still worried, there is less control at grocery stores than a state operated store. "I lived in states where they had it in the grocery stores. It seems to me it was easier for kids to pick it up, even if they don't pay for it," says Kennewick resident John Walker.
Another big change that can happen if I-1183 passes is to the current 325 liquor stores Roughly, half of them will stay open under private owners , but the other half will close, and those employees will likely be laid off. Right now state liquor stores employ more than 625 clerks.