Floating the river can get dangerous
Posted:
Updated: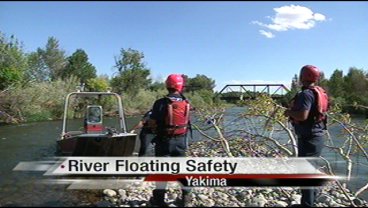 YAKIMA, Wash.-- Floating the Yakima River is a big activity during the summer months in the Yakima Valley, but many don't realize that some areas are pretty dangerous.
There have been several times this summer where the YFD's Water Rescue Unit has had to deploy.
Just this week they saved multiple rafters who were trapped on an island in the Yakima River, something that rescuers say happens too often.
This is the second summer they've had their rescue boat and it's been a huge help. But they rather not have to use it. They want people to know that there are places on the river that are much safer to float.
They say up in the Yakima River Canyon area outside Ellensburg is calmer than the same river down in Yakima, next to the Greenway. A choice to float in the canyon could save your life.
"Up in the canyon it's fairly safe. It's a good stretch of river. once you get to Yakima, from Yakima down through the gap it's very treacherous," said Cpt. Rocky Willette of the Yakima Fire Dept. "If you don't know what you're doing stay out of that stretch of river."
YFD works closely with the Yakima Sheriff's Office when deploying their water rescue unit and say it's that type of agency cooperation that helps save lives.
They say that yes, it did cost tax payers when they got the boat, but saving lives, like they did earlier this week, is something they won't skimp on.
They remind people that if you're planning on floating the river, to do it in a safe area and to always wear a life jacket.