Dad upset about kids shooting guns at Pasco Bible camp
Posted:
Updated: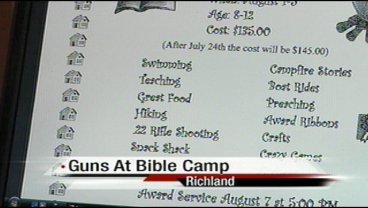 RICHLAND, Wash. -- One Richland father is upset after learning that swimming, hiking, and crafts were not the only activities offered at the week long Junior Camp put together by Riverview Baptist Church in Pasco.
He also learned his 8 and 11 year olds shot weapons at a gun safety class. "They told me that they had semi automatic weapons there, hand guns, and .22's," says Randy Sawrski.
Sawrski immediately called his ex-wife who signed the registration form and knew about the training. He says she didn't find anything wrong with the class, and gets to make such decisions.
"All it takes is one accident, and it will all come to an head....It scares the daylights out of me," says Sawrski.
The pastors at the church didn't want to give an on camera interview but they did talk to KNDU. Pastor Mike Schwalbach, who is the children's pastor at the church and runs the camp says the gun safety class is something they've been teaching since 1987. Schwalbach says the one day of shooting teaches kids respect and how to properly treat a weapon.
He says there were 122 kids who went to the camp and 43 councilors who shot with them one on one.
Sawrski also was concerned that the instructors had no special certification to teach such a class to children, but in the state of Washington, it is not required.

The pastors at the church did address concerns . They decided next year, they will stick to .22 rifles and no longer teach kids gun safety with semi-automatic weapons.