Training program helping dogs and youth
Posted:
Updated: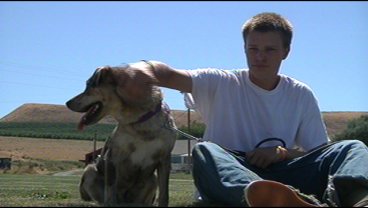 PRESCOTT, Wash. -- The dogs at the Jubilee kennel in Prescott may look cute and calm, but they've had a rough past filled with abuse and neglect.
The kennel is a last resort for many of them, often strays taken off of Walla Walla streets. Now they're involved in a dog training program taught by students.
"When I first came to Jubilee, I was very impatient and I really didn't have that much of a responsibility and working with the dogs showed me more responsibility and what more I have to do," explains Jubilee student Kyle Fredericks, one of eight teens working with the dogs.
Jamaal Johnson, director of agriculture training at the ranch, says the program is the best type of therapy for the young men,"the dog can listen, he's not going judge him, he's not going to make him have to wear certain type of clothes to bring with the dog, they don't have to fit a certain picture. The dog's going to accept them for who they are."
No judgement from peers or society. Faced with problems ranging from substance abuse to behavior, the only issues students have in the 10 week program are the dogs leaving.
"One weekend, I came out to clean out the kennels, the dog I trained named "Austin," he was a really cool dog, like a german shepherd. He was gone, and I kind of felt bad about it because I was like "man I didn't get to say goodbye to him," explains student Nathan Mace.
Mace adds that working with the canines, many of the youth have realized that there are things bigger than themselves, "I realize there's a lot more animals that need to be taken care of and I kind of, I like to do this because they get trained you know. So, I feel I've been doing something that's not for myself, it's for someone else."
The concern to help others has pushed Kyle Fredericks to want to be a veterinarian, "I feel that's another way I can just help out the animals through what they've done, because they've helped me out."
The three month old program has had all of it's dogs adopted. People interested can contact the kennel at www.jyranch.org or the Blue Mountain Humane Society at 509.525.2452.