Human activity likely cause for Owens Road fire
Posted:
Updated: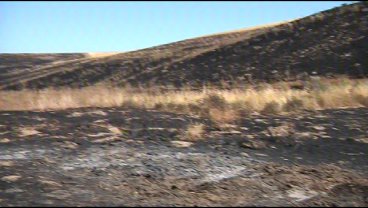 NEAR KENNEWICK, Wash.-- Human activity likely cause for Owens Road fire. Benton County District #1 firefighters say the fire that started out on Owens Road last Friday was caused by human activity. However, they have not yet determined what kind of activity it was, and they may never find out.
Deputy Fire Chief Mike Harris says "I would say 50% of the time we look at fires we do not determine a cause. We are looking at human activity in this area." Harris says it is part of the process the Benton County District #1 firefighters go through to determine what started the fire. He says it is the process of eliminating other factors that could have caused the fire like overhead power lines or farming machinery.
We were told it is a difficult task to sort through all of the debris to find the point of origin, or where the fire started. It is especially hard when there 340 acres that have burned with not a lot of clues leftover.
Lt. Scott Loparco of Benton County #1 says "most of the time everything is not completely destroyed or burned. You can look at grass and the direction is lays. That is an indicator of where the fire came from and where it was headed."
Firefighters determined the blaze was not started by machinery or natural causes. What we do know so far is that it was started by people out in the Owens Road area.
Firefighters investigate wildfires like Owens Fire to look for trends. If the same thing is happening over and over again like using illegal fireworks or shooting. The County Fire Marshall can make laws to regulate these kinds of activities to keep people safe.