Homeless Vets get a home in Kennewick.
Posted:
Updated: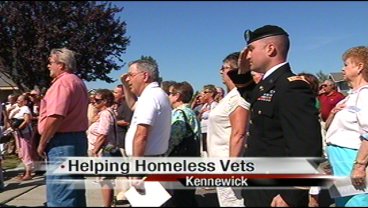 KENNEWICK, Wash, -- According to the VA, half a million veterans will experience homelessness at some point in the course of a year. In the Tri-Cities, that number is estimated at about 80.

That is why several organizations worked together with the Columbia Basin Veterans Coalition to open a new house that helps vets transition into civilian life.
The Wagenaar-Pfister house, named after two local service men who gave their lives for our freedom. Lorrie Tallett's son Travis Pfister is a Richland Marine killed in Iraq, when his helicopter was shot down in February of 2007. She spoke at the ribbon cutting.
Tallett says the house would have meant the world to him. "It was his idea. Seriously, take care of his fellow marines, fellow soldiers, I would say that he would be elated," says Tallett.
State Attorney General Rob McKenna also helped with the ribbon cutting Tuesday afternoon. Many pitched in to the project.
"The benefit is by being able to get together and sharing an experience. Its part of the healing. Its part of the therapy if you will, for post traumatic stress disorder and other challenges that they may face," says McKenna whose father was an Army Serviceman for 30 years.
The City of Kennewick used their HUD fund to buy the foreclosed house through a neighborhood stabilization program. The City of Richland also pitched in.
The Columbia Basin Veterans Coalition collected about $50,000 in donations from various organizations. Habitat For Humanity helped fix the place up. The new house, on 4601 W. Grand Ronde Avenue will take in about six to seven veterans, to help them transition out of homelessness.
Two men already moved in May.