Dust Devils Come Up Short, 7-6, to Boise
Posted:
Updated: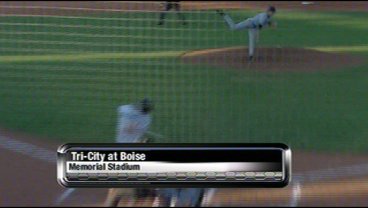 BOISE, Idaho - Ryan Cuneo clubbed a walk-off RBI double in the bottom of the ninth inning, lifting the Boise Hawks to a come-from-behind 7-6 victory over the Tri-City Dust Devils, before 3,178 fans at Memorial Stadium.
Reggie Golden led off the ninth with a broken bat single off Kenneth Roberts, with Cuneo hitting the first pitch into the right field corner, as Golden dived head-first in past the tag of catcher Ryan Casteel for Boise's fifth win in their final at bat in 2011.
The Hawks rallied from an early 5-0 deficit, as a Casteel RBI double in the second and a two-run Jayson Langfels homer in the third helped the visitors grab the lead. Boise would get a Cuneo two-run homer and a Mario Mercedes RBI single in the fourth to get back in the game. The hosts would tie the game in the sixth on a Pin-Chieh Chen sacrifice fly in the sixth.
Tri-City had chances against the Boise bullpen in the latter innings, as David Hernandez was thrown out trying to score on a wild pitch in the sixth to end the frame, while the Dust Devils stranded the bases loaded in the eighth. Bryce Shafer struck out the side in the ninth to pick up his third win.
Mercedes went 3-for-4 in the win for the Hawks, while Cuneo, Golden, Paul Hoilman, and Willson Contreras each logging two hits - part of a 14-hit attack. Brian Humphries went 3-for-5, with Casteel and Jared Simon each notching two hits in the loss for the Dust Devils.