Officer involved shooting ruled justified
Posted:
Updated: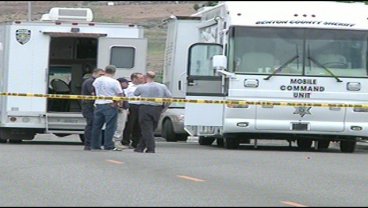 KENNEWICK, Wash.-The Benton County Prosecutor says an officer involved shooting back in June was justified. The investigation focused on four Richland police officers after 27-year-old James Dean Schultz was shot and killed.
On June 5th Richland police officers responded to the 1400 block of Alice Street in Richland. Schultz climbed from the back seat into the front seat, and fired two gunshots at police who were just two to three feet away. Four officers responded with 23 gunshots within three to five seconds killing Schultz.
"No matter how appropriate the circumstance was it is still something that is going to effect them for the rest of their life and the rest of their career and that's why I say that if anyone is a victim in this sad case in addition to Schultz's family would be the police officers," says Andy Miller, Benton County Prosecutor.
Miller says Schultz's motive was multiple outstanding warrants for his arrest including charges of burglary, grand theft and unlawful possession of a firearm. In addition, toxicology reports show he had methamphetamine in his blood.
Miller and the Special Investigations United found the involved officers' statements were accurate with the evidence, and witness statements were contradictory.
One issue some people raised were the length of time before information was released. It took almost two weeks before the public learned the names of the officers involved. However, police say information was held out of safety precautions.
"It is not uncommon for people who are affiliated with gangs to retaliate against officers and officer's families, and it was our responsibility to safeguard those officers' identity and ultimately their safety and the safety of their family members until we were able to fully vet whether or not there was a threat," says Chief Chris Skinner, Richland Police Department.
The four officers have returned to work. Click here to read the entire investigative report.