Expensive wire thefts are causing issues
Posted:
Updated: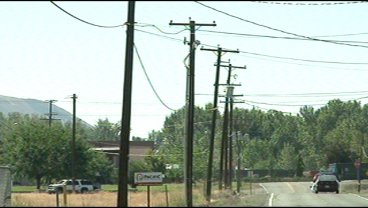 YAKIMA, Wash.-- There's been a dramatic rise in the number of thefts in the Yakima Valley. This time, it's wire from power poles they're targeting.
Thieves have started going right up to the pole and cutting off the expensive copper wire, causing all sorts of issues.
It's usually the ground wire that runs the length of the power poll.
Pacific Power officials say it's a big problem, for everyone.
"Wire theft has been a big problem for us for several years now and it seems to come and go, and it's really hit a peak earlier this spring and on into the summer," said Clark Satre with Pacific Power.
In just the last 3 months it's cost Pacific Power more than $40,000 to fix, something they say could affect prices for customers if it continues. But they hope to get the publics help to stop it.
"We're offering a $3,000 reward for information that leads to the arrest and conviction of these thieves," Satre said.
The Yakima Sheriff's Office say's they've seen about 12 wire thefts this year. Many of those in the last few months.
Thieves pull the wire off the pole and take it to a recycling center where they could make up to $2.60 per pound.
YPD says it's an issue they see year after year.
"Copper thefts, wire thefts are things that we see generally in a rash, we'll see a spike in those thefts for a period of time," said Lt. Mike Merryman with the Yakima Police Dept.
Recycling centers we talked to say they do have steps in place to prevent the sale of stolen wire, however it's hard to track.
YPD says thefts typically occur at night and it's up to the public to report any suspicious activity.
Pacific Powers says anyone with information on past thefts should call the Crime Stoppers hotline at 1-800 222-TIPS.