Increase in brush fires this season
Posted:
Updated: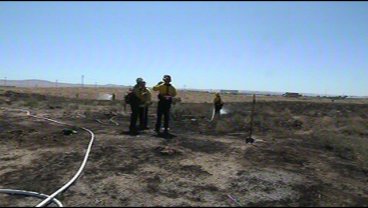 KENNEWICK, Wash. -- If you thought that this year has been a quiet one for brush fires, you may be right depending on where you live.
KNDU checked the numbers, and locally, we have more fires than usual. New information from the Washington State Department of Natural Resources shows much of the state has seen a sharp decline in reports for brush fires.
In July, there were only 214 wildfires, compared to the average 467 in the past three years. Fewer fires is directly related to a cold and wet spring.
However, I talked with local fire agencies in Benton, Franklin, and Walla Walla counties and they say here in Southeastern Washington, this year may look slow, but that's far from the truth.
"It kind of presents a common misconception that with the cooler temperatures and wetter conditions that things aren't going to burn. Actually, in this area here in the basin, it's quite opposite," explains Lieutenant Aaron Bebe of Benton County Fire District 1.
According to local fire officials, Benton county usually gets about 50 fires calls, this year, it's 70. In Franklin county and Pasco, the calls have nearly doubled up to 78. Walla Walla county was slightly below average.
Again, fire fighters say the wet spring caused more fuel to grow, that's why we have an increase. And, they say we're not out of the fire season yet.