Mortgage rates hit 40 year record low
Posted:
Updated: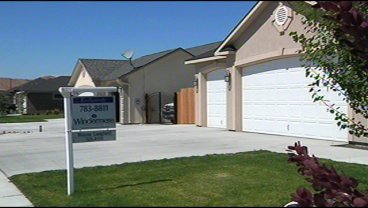 KENNEWICK, Wash. -- The last time we've had mortgage interest rates this low was 1971. That means many of those who dabbled with the idea of being a homeowner are jumping onboard, and others are using this as the opportunity to refinance.
As of Thursday, August 18, 2001, there is a 4.00% for a 30 year fixed mortgage, and 3.25% for 15 year fixed mortgages.
Vicki Monteagudo, a realtor with Caldwell Bankers says the time to buy is now. "People are afraid, that they're going to go back up to 5-6%. For every point the interest rate drops, your purchasing power also drops 10%. So if today you can afford a $200,000 house, as soon as the interest rates go up 1%, you can only afford a $180,000 house," says Monteagudo.

She says interest rates have helped drive up traffic in the Tri-Cities. Even though the month of July has been slow, over all the community is doing well,
"We trend as the one of your top performing cities in the nation right now. we sell on average about 175 homes a month.'>
and people who already have homes, are also taking advantage of the rates," says Monteagudo.
Brad Seabaugh, a loan officer with Sterling Savings Bank, the home division says, they are pretty busy as well.
He says his Sterling branch in Kennewick finances about 60-80 homes a month, and 15% of them are refinancing.
"For someone who has a $160,000 loan amount, if they had a rate of lets say 5% even a year ago, it would save them $100 a month being at 4% today," says Seabaugh.

Seabaugh says most of his clients have already taken advantage of this opportunity. "Most of the people that have closed a loan in the last ten years have already refinanced their loan because the opportunity to get something in the mid fours has already been here several times over the last year."
Vicki Monteagudo says another big factor that affects real estate locally is Hanford. She says, ironically she's seen an increase in traffic since it was announced 16-hundred workers would be laid off.
Monteagudo said the people who learned they would be *keeping* their jobs are looking into buying a home, especially with apartment rents going up.