More hospital growth in South Kennewick
Posted:
Updated: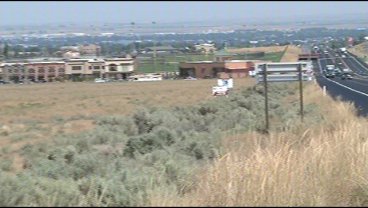 KENNEWICK, Wash. -- A section of land in Southridge is where Kennewick General Hospital wants to build it's newest facility. But, when that building is constructed, it won't be the only medical center in this area.
"We have been outgrowing our current emergency department, we outgrew it 3 years ago," explains Rand Wortman of Kadlec Health System.
Now, Kadlec wants to build somewhere in South Kennewick. Possibly in Southridge near Highway 395, but KGH isn't sure how to explain the move, "why Kadlec is doing it, you'd have to ask them because I don't know why, all we're doing is concentrating on getting that thing built at Southridge, we will get that done," says Jim Mefford of Kennewick General Hospital.
But, Kadlec knows why,"we did the research and we learned that well in excess of 10,000 of our 65,000 visits come from people that already live in Kennewick," says Wortman.
That's why Kadlec wants to build a $16 million dollar emergency facility. KGH's development would be a second hospital to relieve pressure on it's 60 year old building. Despite the difference's, each has something in common, lack of space.
"What perceptions others may have about this wasn't what drove the decision. This was really about what does the community need," Wortman explains. Over a ten year period the need has just about tripled. In 2000, Kadlec had 23,000 visits. In 2011, that number rose to 65,000.
KGH's Mefford also sees space running out there, which is why a new hospital is in the works,"as you know, the population of the Tri-Cities is just growing very, very rapidly and there is a need for more healthcare facilities in the Tri-Cities."
Kennewick General Hospital has not commented on how much this project is going to cost or when it's even going to begin. But Kadlec expects to have their new building complete somewhere in South Kennewick by the Spring of 2013.