Rash of burglaries in West Valley
Posted:
Updated: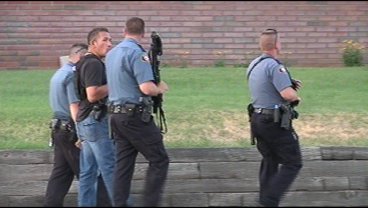 YAKIMA, Wash.-- Burglaries in Yakima's West Valley have gone up. But it's what thieves are getting their hands on that has police particularly concerned.
One of those west side burglaries was in process Thursday night when police surrounded a neighborhood. It was a tense a search for Michael Stewart, 27, a known criminal in Yakima. Stewart was arrested after a long search, a good ending.
He was found in a crawl space after breaking into another home and running from police.
Neighbors watching the scene unfold were shocked to see it in their normally safe neighborhood.
"Crazy cops, all over the place. You had State Patrol, you had Yakima, you had Sheriff's. It was quite exciting actually," said Tom Singrey.
Lieutenant Mike Merryman of the Yakima Police Dept. says they've seen a dramatic increase in burglaries in the West Valley, but it's the circumstances that are concerning.
"What we've seen is a recent spike in our daylight burglaries and in particular what we're dealing with are folks that are taking advantage of open windows," said Lt. Merryman.
And even more worrisome, police say burglars are getting away with guns. Guns that eventually make their way into the hands of gang members.
"We had an officer involved shooting, that weapon in that case was stolen from a west side residence. Subtract that weapon from the equation, perhaps not an officer involved shooting that night," Lt. Merryman said.
Lt. Merryman says with the warm weather people tend to leave their windows open giving criminals easy access to homes. But preventing it, can be just as easy.
"Leave a note, leave some type of reminder so in the morning when you go off to start your day you lock those things back down again and make your house a harder target," said Lt. Merryman.
That burglary suspect that was arrested yesterday has been charged with, among other things, 1st degree Burglary and Unlawful Possession of a Firearm.