Layoffs for Hanford employees; CH2MHill holds job fair
Posted:
Updated: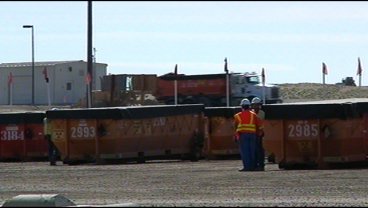 NEAR RICHLAND, Wash. -- Hanford employees brace themselves for another round of layoffs. On Friday, 475 Hanford tank farm employees were given notice, with an estimated 600 more to come. Notices were already given weeks ago to over 1,600 contractor employees from CH2MHill and Mission Support Alliance.
Those layoffs are coming in September and October. CH2MHill organized a big job fair today for those who will soon be looking for work. More than 1,000 people who were recently laid off went to the Trac in Pasco Friday to find a job.
CH2MHill is trying to give back with the job fair after delivering the bad news to more than 13,00 of their own employees last month.
"We want to give these people a soft landing and give them as much support and opportunity for future success as we can as we complete this project," said John Lehew, President and CEO of CH2MHill.
Most projects funded by the American Recovery and Reinvestment Acts are near completion, meaning more than 1600 Hanford layoffs were announced. Some workers said the layoffs were expected as recovery money runs out.
"I knew there was a possibility that I would be laid off but I knew this experience would be very much worth it," said Scott Engenan, WRPS health physics technician.
CH2MHill invited more than2,000 employers from across the country more than 120 showed up.
"We put advertisements out in newspapers where all the other DOE facilities are as well as other major regional newspapers. The companies have come out on their own because I think they recognize the talent we have here at our Hanford site," said Lehew.
Chris Lucas, with Lucas Engineering was one of the employers there Friday, looking at potential candidates. He said, "we had some really good folks stop by, good resumes, people present themselves well. it's been great."
KNDU also employer, Barrick North America. They are out of Nevada and are looking for a variety of positions to fill. They do their pre-screenings at their booth and sent those they are interested in to a hotel to do the final interview. They tole KNDU they've already made offers for 12 positions,"
Dave Hasbrouck, with Hanford waste retrieval, said, "its been very good, I've made some contacts and I believe it's a very good thing they've put on."
CH2MHill began promoting the job fair at end of June when they announced their own layoffs. However since the new announcement of this new batch of lay offs at Hanford , they made last minute invitations to those employees as well.