New Immigration policy may save 300,000 from deportation
Posted:
Updated: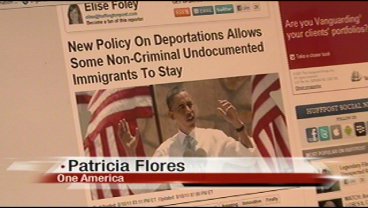 YAKIMA, Wash- The Obama administration announced Thursday that hundreds of thousands of people facing deportation may get to stay in the country.
Obama's government has deported a record number of illegal immigrants, about 400,000 in the last fiscal year. That's 25 percent more than President Bush deported in 2007. As you can imagine reactions are mixed as the administration seems to being going down a different path.
"I would say it's more than a turn around and the common term I have heard and read is that it's back door amnesty", says Sandi Brendale of Grass Roots of Yakima Valley, an anti-illegal immigration group
"That's really exciting because we haven't seen movement in that direction", says Patrica Flores of One America.
What's come as disturbing news for some, is inspiring hope in others. When Patricia Flores like many in the community has protested, called lawmakers held forums, all calling for immigration reform. When she heard the Obama administration plans to do a case-by-case review of about 300,000 illegal immigrants instead of just deporting them, she felt like the work she and many others in the community have done is paying off.
"I think the pressure, the organized pressure of the community"
Sandi sees it as a little more simple than that.
"I think we get squishy before an election", she says.
The Obama Administration's new policy calls for a focus on deporting dangerous illegal immigrants. But others that are caught in the net will be given a chance to stay in the country and apply for a work permit.
"We have 22 million Americans right now looking for full time work and we're going to give work visas to illegals? That makes no sense to me", says Sandi.
The Homeland Security secretary says they need to spend their resources getting rid of illegals that pose a public safety risk. While that seems like good news to Patricia, she's waiting for results before she starts celebrating.
"It's one thing to say there are new guidelines. It's another thing to do the action behind them and really start evaluating and reviewing case by case", says Patricia.
Many of the illegals in question were caught through the controversial Secure Communities Program, the immigration screening of people who get booked into jail. A big criticism of that program is that potentially identifies illegals whether they're considered dangerous or not.