Dust Devils Lose Pitchers Duel, For Once
Posted:
Updated: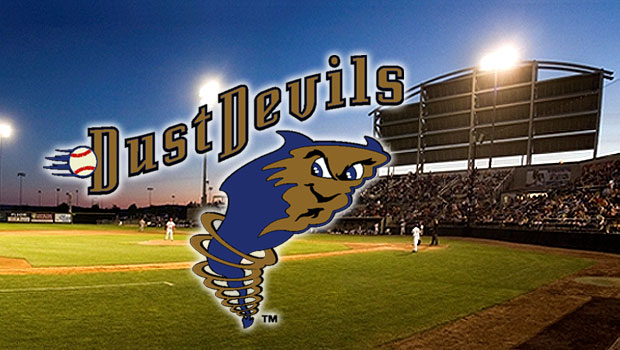 Pasco, WA--- A crowd of 2,018 saw another shutout at Gesa Stadium Sunday night. This time, however, the Dust Devils were the shutout-ees, not the shutout-ers. Spokane starter Chris Hanna struck out eight Tri-City batters over 6 2/3 scoreless innings and infielder Tim Smalling hit into a game-ending double play with runners on first and second as Tri-City (16-10 second half, 38-26 overall) lost, 1-0.
The loss snapped the Dust Devils' eight game home winning streak and was only the second time they have been shut out this season. Pinch-hitter Tyler Massey's single to lead-off the bottom of the ninth was followed by a bunt single from pinch-hitter Brian Humphries. The Dust Devils had the tying run at second with no outs but shortstop Taylor Featherston's sacrifice attempt failed when first baseman Trever Adams forced Massey out at first. Smalling then grounded the first pitch he saw from Indians' closer Matt West over to second baseman Rougned Odor who tagged Featherston and threw to first to end the game.
Beating the Dust Devils at Gesa Stadium has not proven to be an easy task. Of the Dust Devils' eight home losses, six have come by only one run. Of those games, the Dust Devils have left the tying run on base on five different occasions and have also scored at least one run in the bottom of the ninth five times. West, who earned his seventh save tonight, experienced it firsthand earlier this season. In the right-hander's first appearance in the Tri-Cities, he allowed the tying run to score with the Dust Devils down to their final out and then gave up a walk-off home run to Jayson Langfels.
Tri-City starter Tyler Gagnon (3-2) picked up the loss, giving up only one run in 5 1/3 innings while striking out seven. He was pulled in the top of the sixth inning after Rougned Odor walked and reached second on a Gagnon throwing error. Reliever Ken Roberts entered the game and allowed a double to Indians' cleanup-hitter Brett Nicholas, driving in the game's only run. Dust Devils' pitcher Nelson Gonzalez threw two scoreless innings despite allowing two hits and committing two balks.
Tri-City and Spokane will play game two of the series tomorrow night at Gesa Stadium. The possible Division Series playoff matchup will feature Dust Devils' right-hander Ben Alsup (3-1, 3.02) against fellow right-hander Nick McBride (1-2, 4.24). Tomorrow's game will be another Coca-Cola Monday. All 22 ounce Coca-Cola products will be $1 all night long. First pitch is scheduled for 7:15 pm.