CSEPP gets a "new" meaning
Posted:
Updated: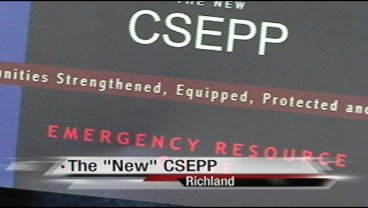 RICHLAND, Wash. -- CSEPP was created to protect people from any sort of dangerous chemical emergency at the Umatilla Chemical Depot since they began destroying war munitions back in 2004. CSEPP stood for the Chemical Stockpile Emergency Preparedness Program.
Now they're expecting to complete the last of the project, getting rid of mustard gas by the end of the year.
This means, the old CSEP Program will no longer be needed, but there are always other emergencies to prepare for.
"CSEPP, the Chemical Stockpile Emergency Preparedness program brought a lot of things to this community, a lot of federal dollars, it helped pay for equipment for emergency responders, as well as some staff here. It's a preparedness program to help the community in case there was, and help prevent any kind of emergency," says Sarah Schwartz, the Public Information Officer at Benton County Emergency Services
The "New" CSEPP will stand for Communities Strengthened, Equipped, Protected and Prepared.
It will concentrate on things like natural disasters, nuclear power plants, floods and everything else that can be harmful.
Emergency Services is handing out new Resource Guide booklets for preparations at the Benton County Fair and Rodeo, or you can call 509-628-2600.